Watermelon and cucumber Punch is the refreshing Indian Beverage made with fresh and seasonal Watermelon and Cucumber. In India, watermelon and cucumber are among the best summer cooler ingredients.
In India several types of Salads, Raitas, Juices, Fruit Platter and variety of other food items are complimented with these both refreshing Indian ingredients.
This weekend my neighborhood are going to move to Kolkatta so yesterday we invited them for the lunch before they would say Last Bye. After we had lunch with them I thought to make a quick and refreshing juice because it was so hot yesterday. Fortunately watermelon and cucumber was available and I quickly made this punch. They really liked this combination of cooler drink and it has become one of the favorite beverage of my family too. Since this punch has become one of our favorite summer Beverages, so today again I made it and clicked the pictures for you for making it your favorite too.
In India, summer is just like killing and your body dehydrates a lot. In this situation, generally we do not like eating food or heavy stuff. Instead that we like to have drinks, cool juices, beverages and cooler drinks. It is always good to include fresh seasonal fruits in our appetite, but sometimes we need some fruit juice instead of taking plain water.
To stay cool in this hot summer try out this watermelon and cucumber juice. You can make it quickly and it will give you instant energy as well. Stay tuned for more interesting recipes which I'm going to explore during these holidays.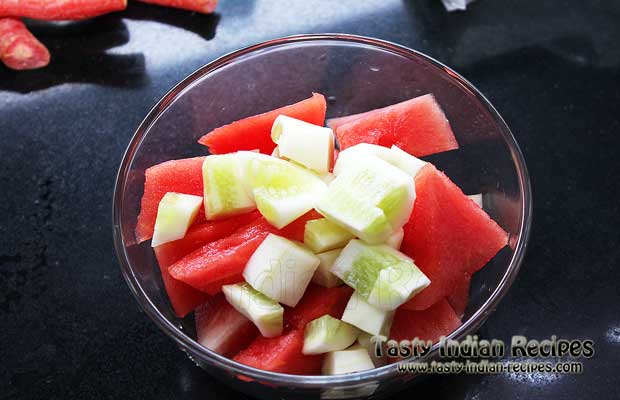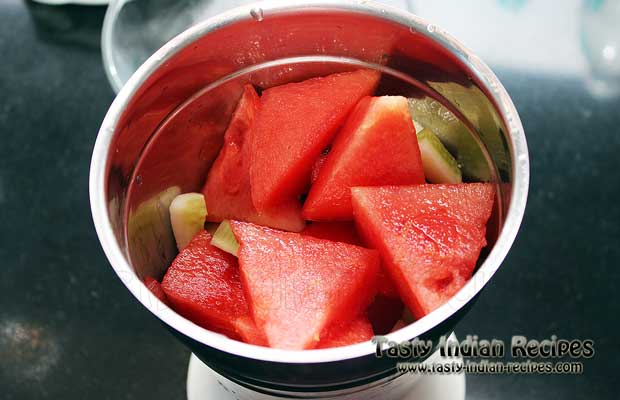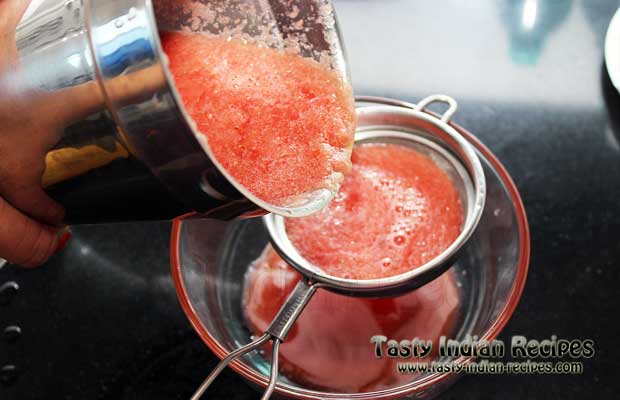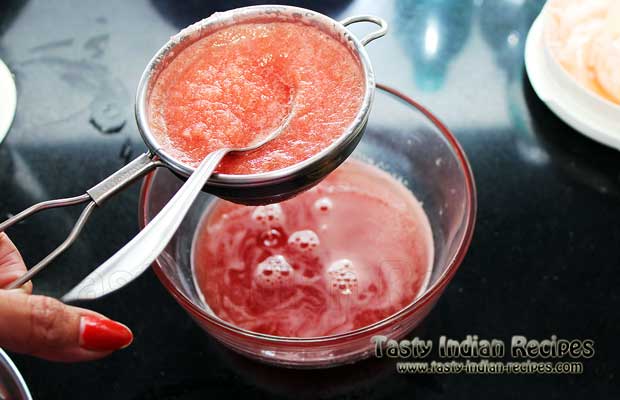 How to make Watermelon and Cucumber Punch Recipe:
Watermelon and Cucumber Punch Recipe
Ingredients
1 cup Watermelon ( chopped into cubes)
1/2 cup Cucumber ( chopped into cubes)
1/2 cup water
Sugar / Honey to taste
Few Ice cubes
Instructions
Take out the seeds from watermelon and put the pieces of watermelon and cucumber in a mixer.
Pulse it into a smooth punch. Filter the juice and take out the rough particles from it.
Add sugar or honey as per your taste and mix in water. Pulse again for few seconds.
Put few ice cubes and serve immediately.
Notes
You can add few drops of lemon or orange juice in this to enhance the flavor.
Tasty Indian Recipes