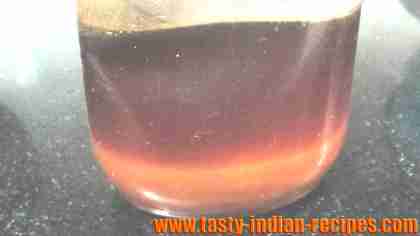 Homemade Sugar Syrup (Chashani) can be easily made with sugar, water and milk. It is highly used for making several Indian sweets and delicacies such as gulab jamun, cocktails, cakes,drinks, etc. Learn how to make simple, quick and easy sugar syrup at home.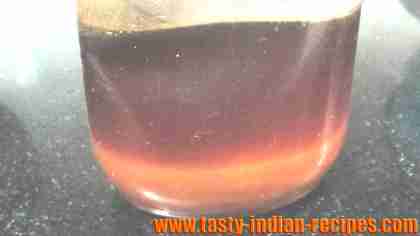 Preparation time: 5 minutes
Cooking time: 20 minutes
Makes 1 medium size bowl
Ingredients:
1 kg sugar
6 cups water
1 cup condensed milk
How to make Sugar Syrup:
Divide the milk and water in 2 equal parts.
Mix one part of the milk and water together and divide into 4 equal portions.
Heat a big vessel and pour the remaining milk and water in it.
Dissolve the sugar completely into the boiling mixture.
After few boils, add one portion of the 4 equal portions and mix thoroughly.
Stir continue over moderate heat and discard the scums arising on the top.
After continuous stirring and boiling add second portion and mix very well.
After few minutes mix the third and final portion of the mixture and clean down the sides of the pan.
At this moment, sugar syrup is getting ready, but generally for making perfect sweets you need one string syrup.
For that you need to keep the syrup on continuous boiling until a drop of syrup leaves one string between the thumb and finger.
Chef Tips:
This homemade sugar syrup is easy in preparation and makes a good quantity to make several Dessert dishes at home.
If you want two, three or four strings sugar syrup (chashni), then you need to continue boiling it.