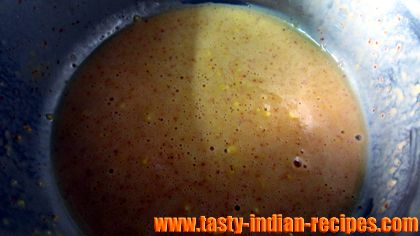 Khoya can be simply made by thickening the condensed milk. Delicious homemade khoya is always healthy and tasty, it can be used for making several sweet delights such as burfi, gulab jamun and many more. You can use this khoya to make several vegetable gravy dishes as well. Learn how to make quick and tasty khoya at home.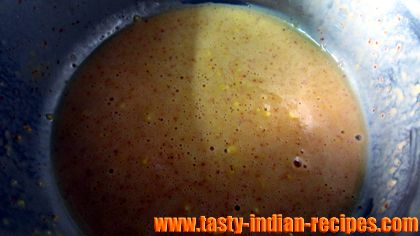 Preparation time: 2 minutes
Cooking time: appx. 2 hours
Makes about 1 medium bowl of khoya
Ingredients:
2 ltr milk
1 tsp lemon juice
How to make Homemade Khoya:
Keep a big vessel on high heat and pour the whole milk in it.
Stir and bring the milk to few boils on medium flame.
After 10 minutes, simmer the flame and keep the milk stirring.
Make sure that milk should not stick on the bottom of the vessel.
 Stir occasionally in regular intervals.
Add lemon juice and stir again for few more minutes.
Now the milk will become thick and perfect form of khoya.
Stir constantly when the milk starts to get thickened.
As soon as the milk is reduced to its thick consistency and looks dry lump, then remove it from the pan.
Allow to cool completely and use for making several sweet delights.
Chef Tips:
This homemade khoya must be used within 15 days.
The main tip is always make khoya between low to medium flame and stir continue to avoid the burning. It's because even a little burn can ruin the whole milk and can not form khoya.
You can make various sweet dishes such as burfi, ice creams, ladoo, etc with this khoya.
Just add sugar and chopped dry fruits, the khoya will be more stylish and delicious to serve in front of kids.