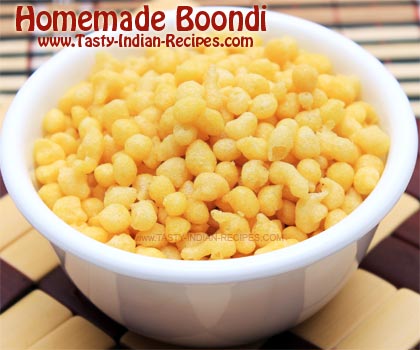 Homemade Boondi can be easily made with bengal gram flour, the small balls are deep-fried to make delicious boondi ladoo and several other desserts. Make your occasions perfect and healthy with homemade boondi recipes.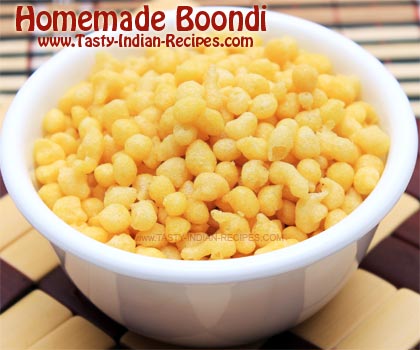 Preparation time: 5 minutes
Cooking time: 15 minutes
Servings: 4
Ingredients:
100 gm bengal gram flour (boondi)
1 cup warm water
A pinch of salt
Oil for frying
How to make Homemade Boondi Recipe :
Put the bundi in a big bowl, mix the salt and gradually add water to make a smooth batter.
Whisk thoroughly and leave the batter to rest for about 20 minutes.
Heat good amount of oil in a deep pan.
Pour the batter in hot oil slowly with the help of perforated spatula.
Turn the boondi and fry evenly from all the sides.
Drain on oil absorbent paper and store in air tight container.
Homemade boondi is ready to use as per requirement.
Chef Tips:
This homemade boondi is always hygienic and healthy compare to store bough boondi.
You can use this boondi within a month.
Make the salads, raitas, boondi laddoo and your favorite desserts from this boondi.