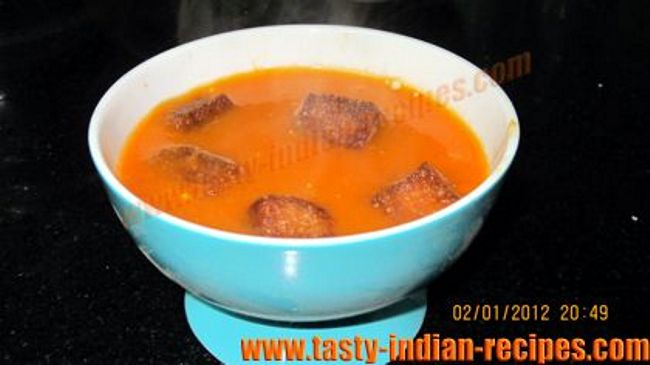 Cream of tomato soup is a delicious creamy hot soup recipe made with lots of fresh tomatoes and explores richness of fresh cream. This soup is my all time favorite soup delight among other soups, because it is tasty, healthy and flavorful in nature. This soup is also known as winter special soup recipe.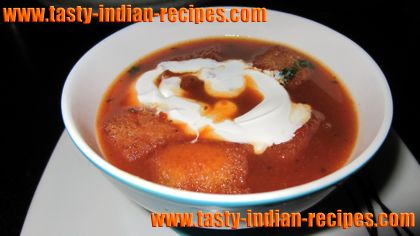 Preparation time: 20 minutes
Cooking time: 15 minutes
Servings: 2-3
Ingredients:
1/2 kg ripped red tomatoes pureed
1 tsp butter
1 bay leaf
3-4 black peppercorns
1 green chilli thinly chopped
1 small cup fresh cream
Fresh coriander chopped
2 bread slices
Oil to deep fry
Salt to taste
Sugar to taste
How to make Cream of Tomato Soup:
Heat sufficient oil in pan.
Cut the slices of bread vertically and horizontally to make tiny croutons.
Deep fry in sufficient oil and keep on absorbent paper.
Heat up a vessel and melt the butter.
Add chopped green chillies, bay leaf and peppercorns.
Stir for a minute on low flame.
Add the tomato puree and leave it simmer.
Add salt as per the taste and leave it until 3-4 boil comes.
Remove from the heat and let to cool.
Strain the soup well, take out bay leaf and peppercorns and keep the water aside.
Transfer the strained soup in a vessel again and keep on medium high flame.
Add the soup water or stock and adjust the salt and sugar accordingly.
Also add little bit of coriander and mix well.
Stir for one minute.
While serving put few bread croutons in the bowl and pour the soup on top of them.
Spread little bit of fresh cream and serve hot.
Chef Tips:
You can add little bit of cornflour for thick consistency of soup.
I have added bay leaf and peppercorns for its flavor, you can add little bit of black pepper powder at the time of cooking.