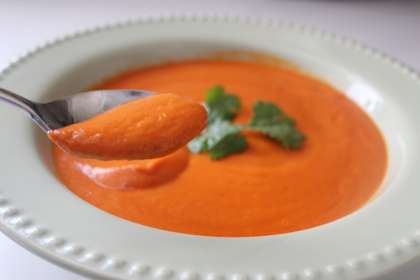 Tomato And Coconut Soup is the most famous Goan recipe. A wonderful, smooth and mouth-melting blend of lots of fresh tomatoes and grated coconut. You will love this soup when temper this with some curry leaves.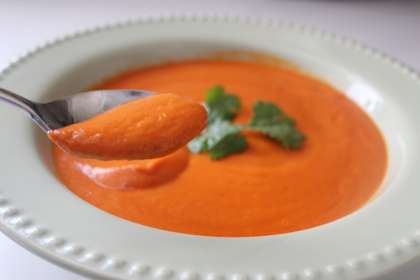 Preparation time: 5 minutes
Cooking time: 10 minutes
Servings: 4
Ingredients:
4 big tomatoes
1 cup grated coconut
1 tsp mustard seeds
Few curry leaves (broken in bits)
2-3 green chillies finely chopped
A pinch of asafoetida (hing)
2 tsp sugar
1 tbsp vegetable / canola oil
3-1/2 cups warm water
Salt to taste
How to make Tomato and Coconut Soup :
Chop the tomatoes in big pieces.
Put them in a blender and blend to make a smooth puree.
Heat a non-stick skillet and add oil.
When the oil is hot enough, add curry leaves, mustard seeds and asafoetida.
Stir in only for few seconds and add tomato puree.
Mix the salt as per taste by stirring constantly.
After 2-3 minutes, add sugar along with the grated coconut.
Add water and bring the soup to a slow flame by stirring occasionally.
Take off from heat up and allow to cool slightly.
Pour the soup into a blender and blend until smooth.
Serve yummy.