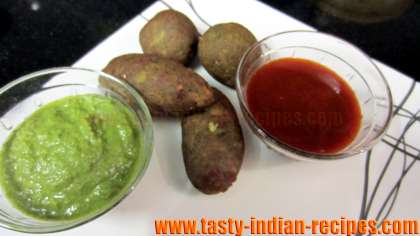 This delicious snack dish is the most tastiest combination of mint /Pudina, chana dal, cheese and spices. Trust me it is a yummy treat to serve in any occasion or festival.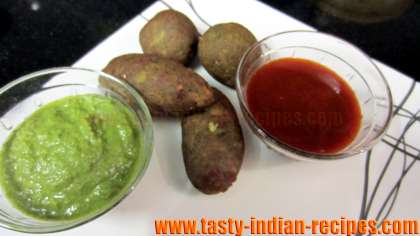 Preparation time: 10 minutes
Cooking time: 10 minutes
Servings: 4
Ingredients :
For making the filling of pudina dal kebab you will require:
1 cup fresh mint leaves (pudina), fine chopped
4 green chillies, finely chopped
1 cup processed, grated cheese
1 small onion, finely chopped
Other Ingredients :
3 cups chana dal (split bengal gram) , soaked for 1 hour
2 tsp ginger-garlic paste
1 tsp red chilli powder
1/2 tsp dry mango powder
1 tsp garam masala powder
2 tbsp maida (all-purpose flour)
1 cup crumbled bread slices
Salt to taste
How to make Pudina Dal Kebab :
Combine all the ingredients of the filling in a bowl and keep aside.
Boil the soaked bengal gram in enough water for 3-4 whistles.
Allow the steam to escape before opening the lid.
In a big bowl, mash the cooked dal and mix the bread crumbs, chilli powder, dry mango powder, garam masala powder and flour very well.
Add ginger-garlic paste and salt to taste.
Knead just like you would do with a patty dough.
Divide the mixture into small equal sized round or oval shaped balls.
Flatten each ball and place a portion of the filling in the center, cover and flatten so as to seal tightly.
You can use some plain flour for proper sealing of the kebabs.
Heat good amount of oil in a frying pan and deep fry 2-3 kebabs at a time in hot oil, till turns nice and crispy, golden brown from all the sides.
Drain the delicious, hot kebabs on oil absorbent paper napkin and serve immediately with green chutney and tomato ketchup.