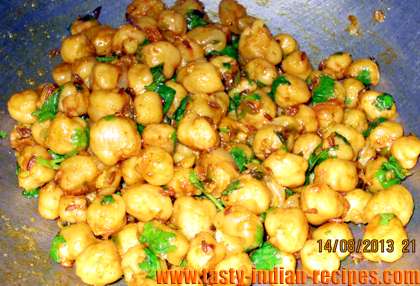 Chickpea Masala is a casual side dish, best to serve with drinks or can be accompanied with full fledged Indian meal. Boiled chole / kabuli chana are cooked with the wholesome flavors of fresh lemon juice and Indian spices.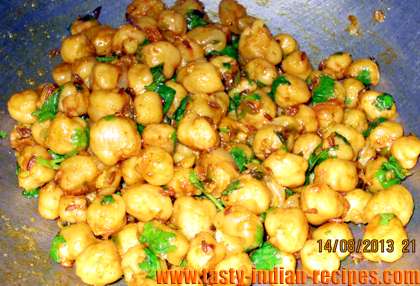 Prep time:
Cook time:
Total time:
Yield: 4 servings
Ingredients :
2 cups boiled chickpeas (kabuli chana / white chick peas / chole)
1 small tomato, diced
2 green chillies, finely chopped
1 tsp crushed ginger
1 tsp crushed garlic
1 tsp cumin seeds
1/2 tsp mustard seeds
1/2 tsp red chilli powder
1/2 tsp turmeric powder
1/4 tsp garam masala powder
1 tsp lemon juice
1 tbsp oil
Fresh coriander leaves, finely chopped
How to make Chickpea Masala :
Heat the oil in the skillet / pan.
Add cumin and mustard seeds.
Allow the seeds to splutter and then add ginger, garlic and green chillies.
Saute well by adding boiled chickpeas.
Stir continue and add chopped tomato.
Mix salt to taste and season the dish with remaining spices and lemon juice.
Cook on low flame, until water completely evaporates and chickpeas little dried.
Garnish with good amount of chopped coriander and serve hot.