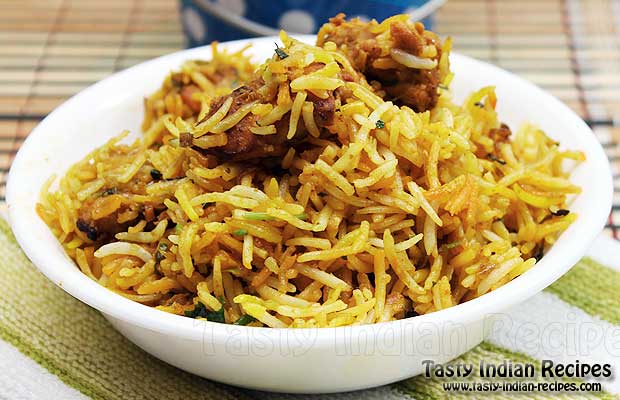 Shrimp Biryani is an ultimate flavored dish made with shrimp and rice. The exotic range of ingredients are used to give a unique turn to shrimp and incredibly presented with unique garnishing ingredients.
Preparation time: 15-17 minutes
Cooking time: 25 minutes
Servings: 4
Ingredients:
4 cups shrimp (deveined and shelled)
1-1/2 cups rice (preferable long grained)
4 tbsp coconut (grated)
2 medium size onions finely chopped
4 green chillies chopped
1 inch ginger grated
2-3 cloves garlic minced
1/2 tsp red chilli powder
1/2 tsp turmeric powder
1 tbsp coriander powder
2 tbsp garam masala powder
2 tsp lemon juice
1 tsp sesame seeds
1/2 tsp carom seeds
1 bay leaf
2-3 peppercorns
2 cardamoms
1 inch cinnamon stick
2 tbsp ghee
Salt to taste
For garnishing:
Few nuts chopped
Fresh coriander leaves chopped
Few white rice cooked
Few yellow rice cooked
How to make Shrimp Biryani:
Wash the rice in normal running water.
Soak them in 3 cups of water and keep aside.
Boil them and drain aside
Combine sesame seeds, bay leaf, carom seeds, peppercorns, cardamoms and cinnamon.
Saute in a non-stick pan and add grated coconut.
Saute just for few seconds, allow to cool and then grind to make a smooth paste.
Melt the ghee in a heating pan, add ginger, garlic and green chillies.
Saute for few seconds on medium high heat and immediately add chopped onion.
Fry onion until tenders.
After few constant stirrings add shrimp, salt, 2 cups water and coconut and spice paste.
Mix well and coat the shrimps with spices and onion.
Simmer the flame and cover the pan.
Leave to cook for about 8-10 minutes and then stir with red chilli powder, turmeric powder, garam masala powder and lemon juice.
Finally add boiled rice.
Toss and cook only for 5 more minutes.
Garnish with garnishing ingredients and serve hot with raita of your choice.
Chef Tips:
You can cook shrimp and rice together in a pan, for that do not boil the rice separately.
From the cooked boiled white rice, set some rice aside, color few with red-orange food color and few with turmeric powder and then use them for garnishing.
You may top the rice with little amount of butter at the time serving.