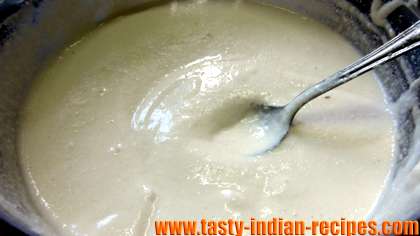 Khichu is a simple yet very tasty Gujarati delicacy, made of rice flour and cooked with flavorful spices.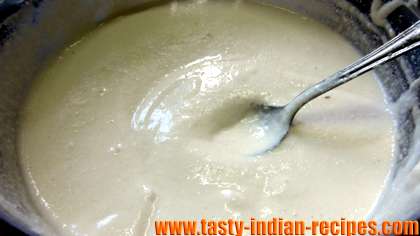 Prep time:
Cook time:
Total time:
Yield: 4 servings
Ingredients:
1/2 kg potatoes
1 cup rice flour
3 tsp Brown sugar
4 Fresh green chilies (seeded and sliced)
3 tbsp Desiccated coconut
1 tbsp Tamarind pulp
1/2 tsp Black mustard seeds
1/2 tsp Cayenne or ground chili powder
1/2 tsp turmeric powder
1 tsp coriander powder
1 tsp cumin seeds
1/2 cup Water
2 tbsp pure ghee
Salt to taste
2 tbsp coriander leaves (finely chopped)
How to make Gujarati Khichu:
Pour 3 cups of water in a big pot and add cumin seeds, green chillies and salt.
Mix well and boil on a high flame for 2 to 3 minutes.
Add rice flour and stir continue with a wooden spoon so that no lumps are formed.
Cover and cook on a slow flame for another 5 to 6 minutes, till the mixture leaves the sides of the pan.
Melt ghee in a non-stick pan and saute remaining ingredients very well, till it leaves a good flavor.
After potatoes tender, remove it from flame and keep aside.
Divide the khichu in4 equal portions and serve in individual cups.
Pour 1 tsp of oil mixture on each portion.
Garnish with chopped coriander and serve hot.