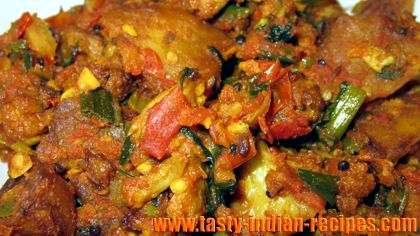 Turnip Cauliflower Carrot Pickle is made with several Indian flavorful veggies, such as Turnips (Shalgam), cauliflower, carrots and pumpkin.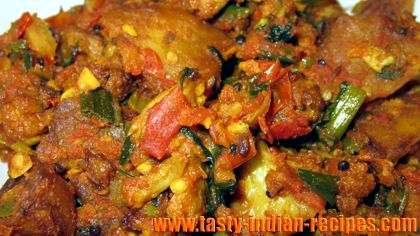 Preparation time: 15 minutes
Cooking time: 25 minutes
Servings: 20
Ingredients:
2 cups (Cauliflower (Phool gobi) (chopped into tiny pieces)
2 cups Carrot (Gajar) (cut into thin slices)
2 cups Turnips (Shalgam) (cut into thin rounds)
2 cups pumpkin (peeled and chopped)
150 gm jaggery (gud)
1/2 inch ginger (adrak)
15 cloves garlic (minced)
1 cup Vinegar (Sirka)
4 tbsp ground spices
2 tbsp mustard powder
3 tbsp Red chili pepper (Lal Mirchi)
3/4 cup Salt (Namak)
3 cups Oil
How to make Turnip, Cauliflower and Carrot pickle :
Boil good amount of water and put all the vegetables in it.
Boil the veggies for 15-18 minutes by adding little bit of salt.
Drain the boiled vegetables and remove the water as much as you can.
Heat the oil till smoky and then cool for 2 minutes.
Stir fry the ginger and garlic in hot oil for few seconds.
Cool the oil very well and then only add 1/2 cup of water.
Cover the vessel with its lid.
Again put it on the fire and cook till water is fully evaporated.
Now mix the remaining ingredients along with boiled vegetables and cook on a hot fire till it leaves the oil.
Cool the pickle very well and then put in the jar.
Keep the pickle under the sun for next 8 – 10 days and shake it daily.
You can store this pickle for 5 – 6 months or may be even more.