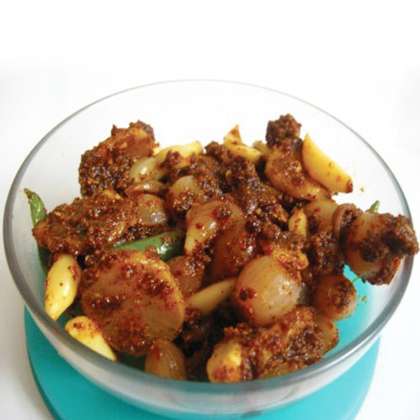 Sweet Mixed Vegetable Pickle is a unique but very tasty combination of cauliflower, carrot, mango, french beans and turnips, simply mixed with spices and flavored with good amount of mustard oil.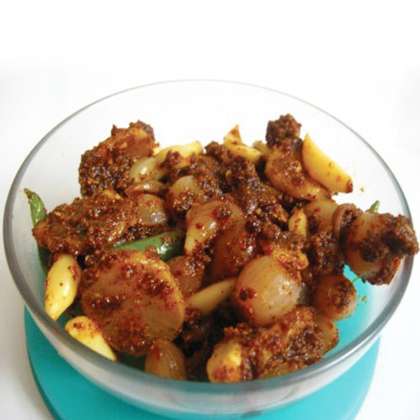 Prep time:
Cook time:
Total time:
Yield: 25 servings
Ingredients:
2 cups chopped Cauliflower
1 cup chopped carrot
2-3 turnips (peeled and chopped in chunks)
1 cup french beans chopped
2 mangoes (peeled and chopped)
2 cup mustard oil (Sarson Ka Tel)
2 tsp glacial acetic acid
2 tbsp mustard powder
4 tbsp garlic minced
2 tsp ground spices
2 tsp red chilli pwder
2 tsp ginger julienned
1 cup sugar
Salt to taste
How to make Sweet Mixed Vegetable Pickle:
Put all the veggies in warm water for about 15 minutes to tender them.
Make the sugar syrup of (in half or less than that amount of water than the sugar) one to two-thread consistency.
Heat little bit of mustard oil and fry ginger and garlic over medium flame until turns golden brown.
Remove from the flame and add all the spices along with glacial acetic acid and prepared sugar syrup.
Again keep on low flame and cook for 3-4 more minutes.
At this moment, mix all the veggies and cook till the oil begins to separate.
Cool for some time and then store in an air tight jar.
Pour the remaining mustard oil over the pickle and cover with a tight lid.
Keep the pickle at room temperature for one week until it gets ready.
You can store this pickle for 6-8 months in refrigerator.