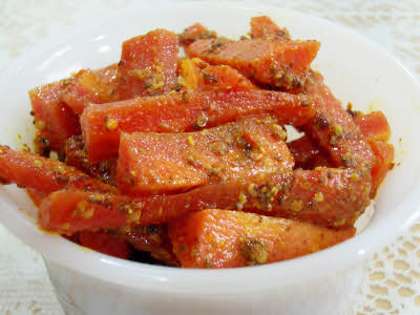 Cauliflower, Turnip And Carrot Pickle is the great combination of Cauliflower, Turnip And Carrot, this pickle really brings a delicious taste in any meal.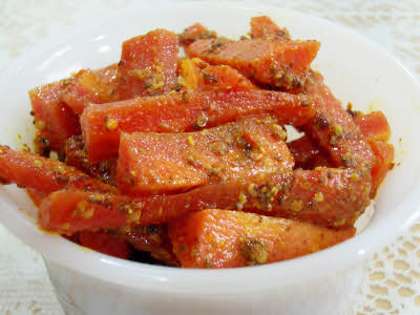 Prep time:
Cook time:
Total time:
Yield: 15 servings
Ingredients:
1 kg Turnips (Shalgam)
1 kg Cauliflower (Phool gobi)
1 kg Carrots (Gajar)
1/2 cup ground Mustard seeds (Rai/Sarson)
4 tsp Turmeric (Haldi)
3 tsp Red chili pepper (Lal Mirchi)/ as per taste
1 – /2 cup Oil (Tel)
Salt (Namak) to taste
How to make Cauliflower, Turnip and Carrot Pickle :
Clean all the veggies and cut into big size chunks.
Boil the veggies in good amount of water for 6-7 minutes until tenders.
Drain the boiled vegetables and soak them with clean kitchen napkin.
In a small bowl, combine mustard seeds, salt, red chilli pepper, turmeric and oil.
Stir in very well with boiled vegetables.
Clean and sterilize any air tight jar and fill with prepared pickle.
Put a tight lid and keep in the sun for 5-6 days.
Shake the pickle bottle once or twice daily till it gets ready.
You can store this pickle for 10-12  days at room temperature.