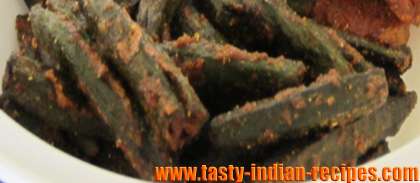 Lady Finger Pickle is the sweet and spicy homemade pickle recipe. Okra or bhindi is flavored with fine Indian spices and given a smooth touch of mustard, fenugreek and curry leaves.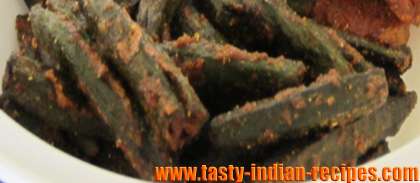 Prep time:
Cook time:
Total time:
Yield: 20 servings
Ingredients:
1/2 kg Lady fingers
4 tsp Red chili pepper (Lal Mirchi)
2 tsp Turmeric (Haldi) powder
3 tsp Cumin Seeds (Jeera)
4 tsp fenugreek seeds
Few curry leaves
4 tsp mustard powder
1 cup Lemon (Nimbu) juice
2 tbsp Salt (Namak) for lemon juice
1/2 teaspoon asafoetida
2 tsp mustard oil
4 tsp Salt (Namak) for masala
How to make Lady finger pickle:
Wash bhindi very well in tap water, pat dry with clean kitchen napkin and cut the head and tail of each bhindi.
Slit all the bhindi's from any one side and keep aside.
Take a small bowl and mix the salt and other ground spices.
Add little bit of lemon juice and mix well.
Stuff a good amount of prepared masala paste in each bhindi and set aside for a while.
In the meantime, heat oil in a saucepan and fry curry leaves for few seconds.
Now slowly mix all the stuffed bhindi with curry leaves.
Add rest of salt and lemon juice and cook for few minutes until it gets a little boil.
Allow the pickle to cool very well and then store in an air tight jar / bottle.
Leave the pickle as it is for next 4 days and after that you can serve it with your meal.