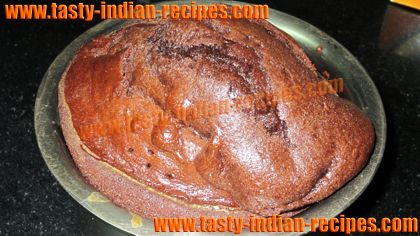 5-minute Chocolate Cake Recipe is an instant or quick method for making delicious chocolate cake. I have used ready made mixture to make this cake and believe me it is awesome. Here is the easiest way to make chocolate cake at home without consuming much time. Give a try to it and make your perfect occasion more perfect.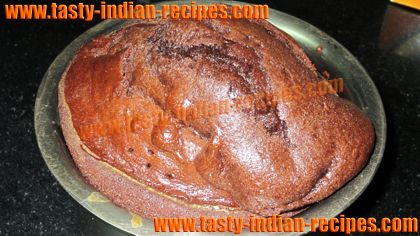 Preparation time: 5 minutes
Cooking time: 5 minutes
Servings: 6-8
Ingredients:
1 packet (250 g) of Fun Foods Chocolate bake mix (ready made and egg less)
1 oven proof baking bowl
150 ml water
100 g butter
A pinch of salt
How to make 5-minute Chocolate Cake Recipe:
Melt the butter in a saucepan.
Take the packet of Fun Foods chocolate bake mix(egg less).
Cut the packet and pour the whole mixture into a big bowl.
Add butter and salt. Mix well.
Mix the cake mixture with the spoon by gradually adding little amount of water.
Mix continuously to break the lumps.
Make a smooth cake mix batter.
Grease the baking bowl with the butter from all the sides.
Pour the cake mix into the baking bowl.
Preheat the oven to 350F degrees for 2-3 minutes.
Place the baking bowl in the oven and bake for about 5 minutes on 500w oven or for 3-4 minutes in a 700w oven.
Keep checking in between, as the cake will start puffing over the top of the bowl, just like a crown.
Do not worry at this point, it will start collapsing as the heat will start.
Take a tooth pick, insert in the cake, if it comes out clean that means the cake is ready.
Cut into desired pieces and serve yummy chocolate cake.
Chef Tips:
I have used the cake mix of Fun Foods brand, whereas other brands are also available in the market.
Do not add more amount of water else the batter will become too soft, which is not good for making cake.
You may garnish the cake with hot liquid chocolate and chopped nuts of your choice.
Store this cake in air tight container, it will remain fresh at least for a week.
If you do not like egg less cake, then add beaten egg in the same mixture to enjoy yummy and chocolaty cake of your choice.
Oil can be used instead of butter.