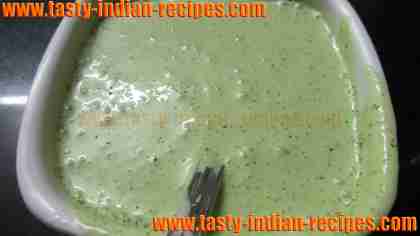 Mint Sauce is a flavorful sauce made with fresh mint leaves, cream and vinegar. You can make this delicious homemade dip easily and quickly and can serve with any type of snack recipes.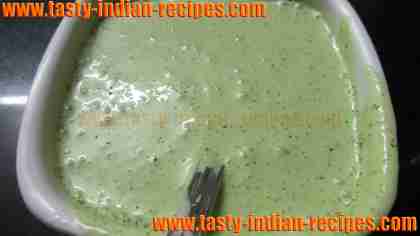 Preparation time: 5-7 minutes
Cooking time: 6-7 minutes
Servings: 4 persons
Ingredients:
1 bunch fresh mint leaves
2 tbsp fresh cream
2 tbsp sugar
1/2 tbsp lemon juice/vinegar
1/4 tsp salt
How to make Mint Sauce:
Grind the mint leaves by adding little bit of water and keep aside.
Heat a non-stick pan and dissolve the sugar completely.
Add vinegar and salt.
Now mix the ground mint leaves.
Stir for few more seconds to remove the sour flavor of the mint leaves and keep aside to cool.
Finally add fresh cream and mix well.
Serve as it is or refrigerated.
Chef Tips:
You can refrigerate this sauce for a week and use whenever required.
It is a best dip to serve with Chinese pakore or slice toasts.