Rice Pakora Recipe is one of the most easiest and fast cooking recipe.  My Bhabi often cook these for her kids specially when they get hungry from nowhere and want fast snack. The best thing about Rice Fitters / Rice Pakora is that they can be made from left over rice and they taste very crispy and good.  You can also make them with or without red chilli powder to adjust the spice.  They also taste good with drinks and are also served in wedding receptions and parties.
The only negative thing about Rice Fritters is that they can not be kept for long time and must be served immediately because they don't taste good after some time.  Rice fritters  taste best with green coriander chutney, tomato ketchup or even with mayonnaise.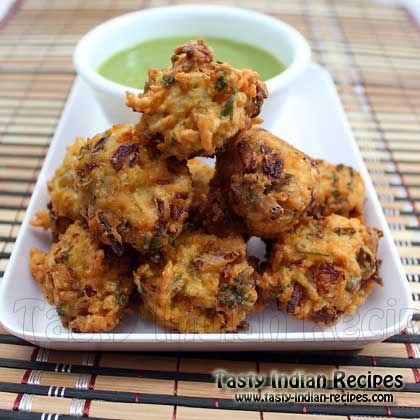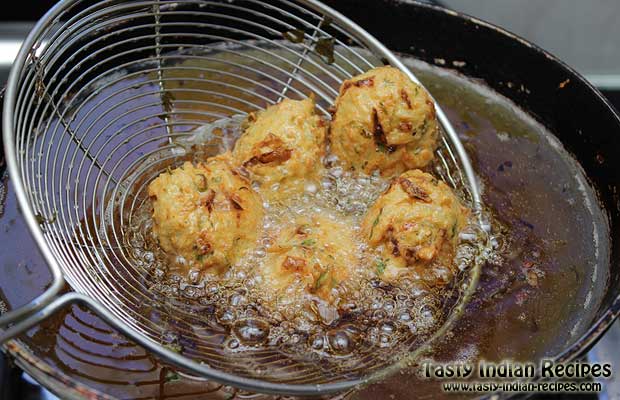 How to make Rice Pakora Recipe / Rice Fritters Recipe:
Rice Pakoda Recipe / Rice Pakora / Rice Fritters Recipe
Rice Pakora is deep fried snack made with cooked Rice, Besan (Ground Flour) , onion and mild spices. Rice Pakora recipe is very easy and kids love them.
Ingredients
1/2 Cup Cooked Rice
2 tablespoon Besan (Ground Flour)
2 Onion
2 Green Chilli
1/2 teaspoon Red Chilli Powder
Few Coriander Leaves
Few Curry Leaves
Salt to taste
Oil for deep frying
Instructions
Chop the onion. Fine cut green chillies, curry leaves and coriander. Mash the rice with your hands and add chopped onion, green chillies, curry leaves and coriander. Mix everything together.
Now add besan, red chilli powder and salt to taste. Slowly add few tablespoons of water till mixture is little bit medium dry.
Heat good amount of oil in frying pan. Make small balls of the rice mixture and deep fry in the oil till they are golden brown. Your Rice Pakora / Rice Fitters are now ready to serve.
Notes
Server them with green chutney. Serve them hot. Do not add chopped items in rice, till you are ready to cook otherwise onion will become watery.
Tasty Indian Recipes
Chef Tips:
You can make these Rice Pakora / Rice Fritters from left over rice.
Serve them hot and with Green Chtuney
Mix chopped ingredients in rice only when you are ready to cook.
If you want to make it less spicy then you may not add chilli powder.