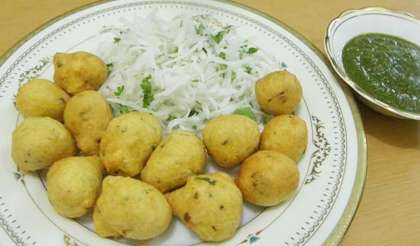 Ram Ladoo can be easily made by mixing the Bengal gram and Yellow moong dal. They are the special and wonderful ladoo's for serving at the snack time. Do not forget to accompany the spicy green chutney and grated radish with these delicious ladoo.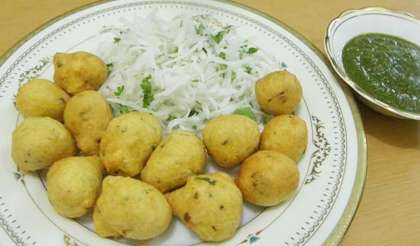 Preparation time: 15 minutes
Cooking time: 15-20 minutes
Servings: 6-8
Ingredients:
1-1/2 cups yellow moong dal (split yellow lentils)
1 cup bengal gram (chana dal)
2 green chillies finely chopped
Salt to taste
1/2 tsp red chilli powder
1 inch ginger grated
1/2 tsp crushed cumin seeds
2 tbsp cilantro chopped
Oil to deep fry
For serving:
Green chutney
Grated radish
How to make Ram Ladoo:
Wash the yellow moong dal and chana dal thoroughly in normal water and soak separately for about 4-5 hours.
Remove the whole water and grind both dals together into a coarse paste.
While grinding, gradually add little amount of water and make a fine paste.
Beat both dal paste for few minutes till becomes light and fluffy.
Now the color of the paste with turn to white from yellow.
Make sure that the paste must have a dropping consistency.
Fill a big bowl with sufficient amount of water and drop a small ball of beaten dal into it.
If the ball floats on the surface of the water, that means it is the desired consistency for making this ladoo.
Add remaining ingredients into the mixture of dal and mix gently with the hand.
Heat generous amount of oil in a frying pan.
Wet your fingers, make a small round shaped ball from the batter and gently drop into hot oil.
Now reduce the flame and put the balls as many as are possible.
Make sure to keep a required distance between the balls.
Fry them on medium flame till the ladoo's turns to golden in color.
Remove out on an oil absorbent paper and serve with green chutney and grated radish.