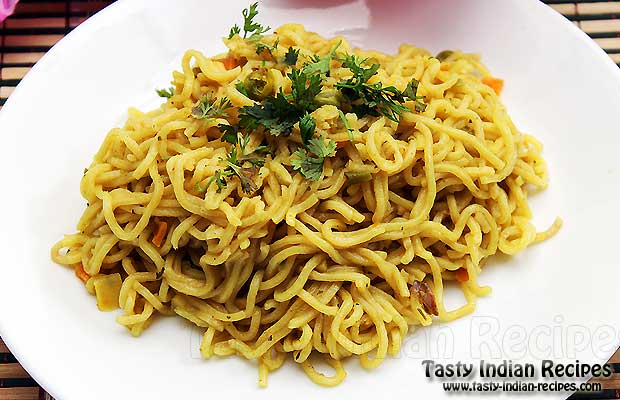 Maggi Noodles is the delicious snack treat flavored with the spices and sauces. Learn to make a new way to cook delicious maggi noodles with lots of veggies, butter and tomato ketchup. Even the kids can not deny to enjoy this yummy maggi treat.
Preparation time: 3-4 minutes
Cooking time: 6-8 minutes
Servings: 2
Ingredients:
2 packs maggi noodles
1/2 tsp cumin seeds
4 cloves garlic minced
2 green chillies thinly chopped
2 tbsp tomato ketchup
2 tbsp frozen peas
2 tbsp carrot thinly chopped
1/2 onion thinly chopped
1 tbsp butter
A pinch of black pepper
A pinch of salt
How to make Maggi Noodles:
Melt the butter in a non-stick pan.
Add cumin seeds, allow the seeds to crackle and add green chillies and minced garlic.
Saute for few more seconds on medium high flame.
Add onion, carrot and green peas.
Adjust with the salt and black pepper, stir for 2 minutes.
Add 2-1/2 cup water and stir very well.
Add Maggi taste maker which comes with its packet.
Mix well and add Maggi noodles.
Stir for few seconds and then simmer the flame.
Leave to cook for about 3-4 minutes until noodles become soft and little dry.
Just before serving stir with the ketchup.
Serve immediately.
Chef Tips:
You can add veggies of your choice.
Serve this dish immediately to enjoy a great snack dish.
You may garnish yummy maggi noodles with fresh cilantro at the time of serving.