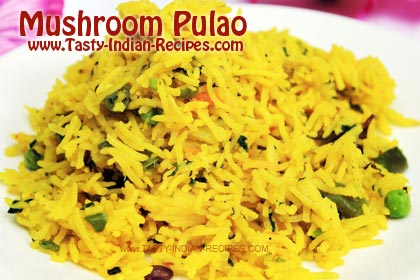 Mushroom Pulao is fully flavored pulao recipe made with mushrooms, paneer, rice and vegetables. This pulao has wholesome flavors of ghee, spice up powder, brown onions and mint leaves.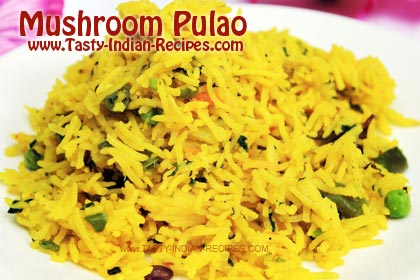 Preparation time: 10 minutes
Cooking time: 25 minutes
Servings: 4
Ingredients:
200 gms canned mushrooms thinly chopped
2 cups basmati rice
2 onions thinly chopped
1 tomato thinly chopped
1 cup cauliflower chopped
1 cup cottage cheese (cubes of paneer)
1 green bell pepper sliced
2 green chillies thinly chopped
1 bay leaf
1 kashmiri red chilli
3-4 black peppercorns
2 cardamoms
2-3 cloves
1 inch cinnamon
2 tbsp ghee
1 cup oil to shallow fry
1 tbsp shah jeera
1/2 tsp red chilli powder
1/2 tsp turmeric powder
A pinch of saffron strands mixed in 2 tbsp of water
1 tsp lemon juice
Few brown onions (optional)
Fresh coriander leaves chopped
Few mint leaves chopped
Salt to taste
How to make Mushroom Pulao :
Wash the rice in normal running water and then boil them in 4 cups of water by adding little bit of salt.
Remove the boiled rice in the sieve and drain the whole water. Keep aside.
Combine bay leaf, kashmiri red chilli, cardamom, peppercorns, cloves and cinnamon.
Saute all together in a sauce pan, allow to cool and then grind to make a smooth spice up powder.
Melt 1 tbsp of ghee in a non-stick pan and saute shah jeera until starts spluttering.
Add all the vegetables except paneer.
Add salt, green chillies, red chilli powder and turmeric powder.
Mix very well and add 1/2 cup water.
Reduce the flame and cook until vegetables become soft.
On the other side, shallow fry the paneer cubes and keep aside.
When the vegetables tenders, then add boiled rice and fried paneer.
Mix well and toss gently.
Stir the rice with lemon juice, saffron mixture, coriander leaves, mint leaves, brown onions and spice up powder of whole garam masala.
Also spread the remaining ghee.
Mix well and cook only for few seconds.
Serve hot with raita of your choice.
Chef Tips:
Oil can be used instead of ghee.
You may clean the mushrooms in warm water, to take out their raw smell.
Other method to cook mushroom pulao is, you can cook rice and vegetables together and then stir up with the spices.
You may add vegetables of your choice in this pulao recipe.