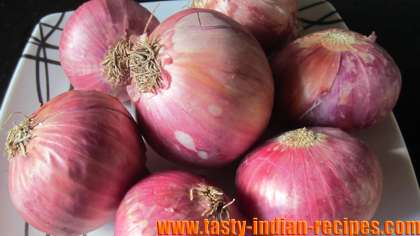 Onion Pickle is a great accompaniment with delicious Indian food. Enjoy this homemade pickle recipe straight out of the jar or have a bite by wedging it between a chapati / puri or naan. Trust me, there's nothing quite like an onion pickle to add a punchy zing to your monsoon meal!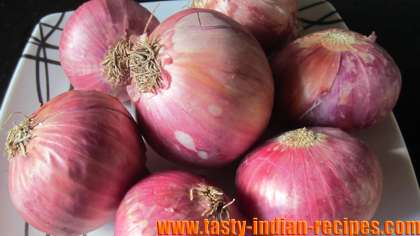 Prep time:
Cook time:
Total time:
Yield: 10 servings
Ingredients:
2 kg big Onions (Pyaj)
3 tsp Onions seeds (Kalonji)
4 tsp Red chili pepper (Lal Mirchi)
5 tbsp mustard powder (coarsely grounded)
2 tsp Black Salt (Kala namak)
4 tsp ground spices
4 tbsp aniseed powder
6 tsp white cumin powder
4 tsp Turmeric (Haldi)
2 tbsp Salt (Namak) for the masala
3 cups Oil
6 tsp amchoor (dry mango powder)
1/2 cup fresh lemon juice
5 tbsp Salt for onions
How to make Onion Pickle:
Peel the onions and slit each into 4-6 pieces, keeping intact from the base.
Rub the onions with 5tbsp of salt and keep them overnight in any jar / container.
Heat the oil till smoky and cool aside.
Mix all the dry spices very well and stir in lemon juice and 1/2 cup of oil.
Fill the prepared masala in onions and pack the onions very well.
Arrange the stuffed onions in an air tight jar and pour the remaining smoky oil all over on them.
Finally mix 1/2 tbsp of salt and shake the jar very well.
Keep aside for 7-8 days, till the pickle is ready to serve.