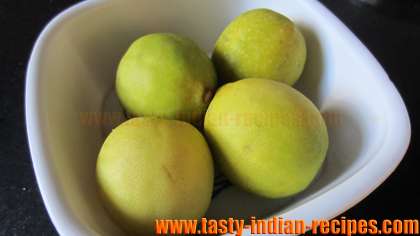 Nimbu Ka Achar is the famous Indian pickle dish. Lots of fresh lemons are beautifully flavored with whole Indian spices. In India, almost every household prepares this pickle, specially when lemons are easily available fresh and cheap in the market. You can make this pickle either in water or in oil. In both ways this pickle is a great accompaniment with any type of Indian meal. Today I'm going to tell you that how to make quick, easy and very tasty lemon pickle in water.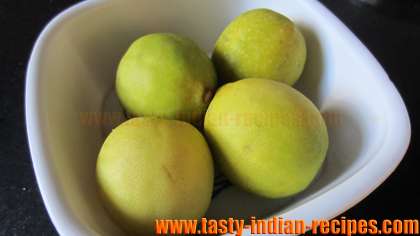 Prep time:
Cook time:
Total time:
Yield: 15 servings
Ingredients:
1 kg Lemons
2 tsp asafoetida
10 whole black peppercorns
1 tbsp black cardamom seeds
1-1/2 tsp white cumin seeds
10 cloves
4 tbsp vinegar
4 tbsp sugar
3 tsp red chilli powder
4 tbsp salt
1 cup warm water
How To Make Lemon Pickle:
Wash the lemons and boil them in water for about 4 minutes.
Pat dry the lemons and cut into thin quarters.
Spread some salt and asafoetida all over on the base of the serialized jar in which you will store the pickle.
Mix the remaining ingredients and grind into a smooth paste.
Smear the prepared ground mixture all over the lemon quarters and then put these spiced lemons into the jar.
Sprinkle rest of salt on top of the lemons.
Also pour warm water and cover the jar with a clean cloth first and then put a lid onto it.
Shake the pickle jar once daily.
Leave the pickle under the sun for 14-15 days, until it gets ready.