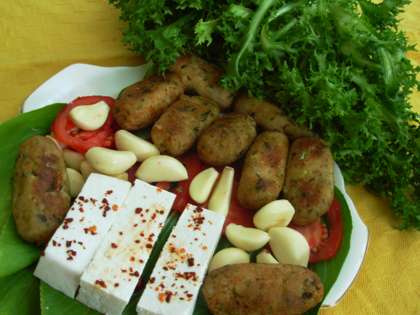 Lasooni paneer is a mouth-watering combination of paneer and spinach, cooked in a saffron based gravy and spiced up with green chillies. It is the most delicious and yummy main course dish, which is easy to make and great to serve at any time. Although this dish can be seen in very limited restaurants, but will be easy for you to taste if you will try to make it as per this method. I'm sure you will get the same restaurant taste, flavors and aroma.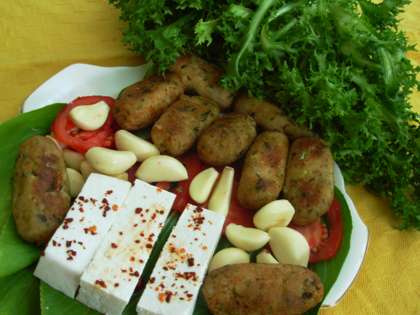 Preparation time: 20 minutes
Cooking time: 30-35 minutes
Servings: 4 persons
Ingredients:
500 gm cottage cheese (paneer)
1 bunch of spinach (palak)
1 /4 tsp saffron
1 cup fresh milk
1 onion cut into slices
4 tomatoes (each cut into big chunks)
1 inch piece of ginger minced
15-20 cloves garlic minced
10-12 green chillies cut into thin slices
1/2 tsp sesame seeds (white til)
1/2 tsp poppy seeds (khus-khus)
2 bay leaves
1 inch cinnamon stick
2 green cardamoms crushed
1 black cardamom crushed
3-4 peppercorns
3-4 whole cloves
1/2 tsp cumin seeds
2 tsp vegetable oil
Salt to taste
How to make Lasooni Paneer:
In a sauce pan combine sesame seeds, poppy seeds, bay leaves, cinnamon, cardamoms, peppercorns, cloves and jeera. Mix well and saute without oil for few seconds until aroma of spices come out.
Mix the saffron in the milk and keep aside.
Heat a pan and add 1/2 tsp of oil.
Add green chillies and minced ginger-garlic. Saute well.
Add cubes of paneer and cook on low flame for about 3 minutes.
Boil the spinach in its own water, leave to cool and then grind to make a smooth paste.
Heat up the same pan in which paneer was saute.
Add remaining oil, leave the oil to heat little bit.
Add slices of onion, fry until onion turn into nice pink or transparent in color.
Add chunks of tomatoes and salt. Mix and cover the pan.
Cook on low flame for 4-5 minutes.
Uncover and add grounded spinach paste and roasted whole masala of saucepan.
Cook the spinach in whole spices for about 7-8 minutes.
Now add saffron with the milk and leave until you see nice boils of gravy.
Finally add paneer and stir for few minutes.
Serve lasooni paneer with hot tandoori roti or Indian chapati.
Chef Tips:
The roasted whole masala of saucepan really spreads a true aroma while making this dish. But if you want to save your time you can use garam masala instead.
I have fried paneer along with chillies, ginger and garlic, because it will give ultimate taste to the dish. I will tell you the secret, keep few pieces of this fried paneer aside and add salt, little of butter and serve as it is with the drinks.