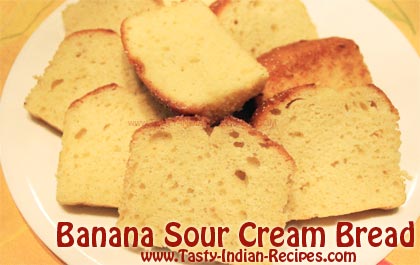 Banana Sour Cream Bread is the yummy and healthy bread recipe that can be easily made with the combination of riped bananas and sour cream. This is extremely delicious bread that can be served at the time of breakfast or as an evening snacks.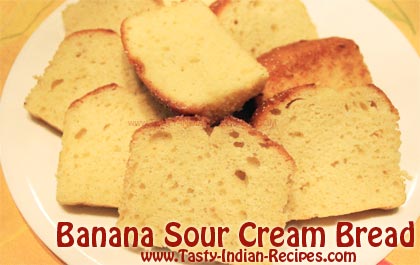 Preparation time: 10-12 minutes
Cooking time: 50 minutes
Servings: 6 – 5×2 inch loaves
Ingredients:
8-10 bananas (fully riped)
2 cups all-purpose flour (maida)
2 cups sour cream
1 cup unsalted butter
2 tsp baking soda
1 tsp green cardamom powder
2 tsp cinnamon powder
2-1/2 cups sugar
2 eggs
1-3/4 tsp vanilla extract
3/4 tsp salt
2 cups condensed milk
1 cup walnuts chopped
How to make Banana Sour Cream Bread:
Peel and mash the bananas in a bowl, add sour cream and set aside for 20-25 minutes.
Beat the eggs in a bowl and keep aside.
Grind the sugar to make a smooth powder.
In a medium size bowl, combine the flour, sugar, salt, banana mixture, vanilla, cardamom powder, cinnamon, baking soda and butter.
Mix very well and add the egg mixture and milk.
Finally stir the mixture with chopped walnuts.
Preheat the oven to 350F degrees and grease the small baking loaf pans with butter or margarine.
Divide the mixture into prepared pans and place in the oven.
Bake for about 50 minutes and check by inserting a toothpick.
If toothpick comes out clean that means banana sour cream bread is ready to serve.
Wrap the bread in clean plastic bags and then store in air tight container.
Chef Tips:
You may add nuts of your choice.
If you are a vegetarian and wants to enjoy this bread, then simply do not add eggs, still you can enjoy it.
This is the kids favorite bread and you can serve to the kids by topping it with their favorite toppings.