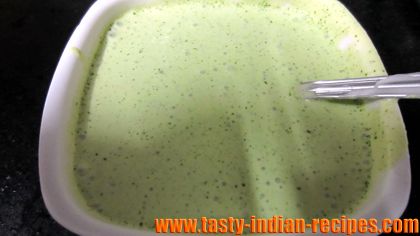 Mint Mayonnaise sauce is a delicious blend of mint, eggs, coriander, oil and spices. It is a great dip to serve with any type of snack dish, also you can make variety of sandwiches, subway style bread snacks, rolls and delicious wraps by adding one of this sauce.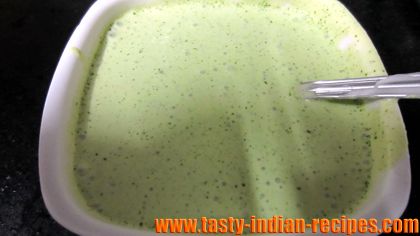 Preparation time: 5 minutes
Cooking time: 8 minutes
Servings: 1 bowl
Ingredients:
1 cup mint leaves chopped
2 green chillies
1/2 inch ginger
1/2 tsp sugar
1 tbsp fresh coriander chopped
2 eggs
2 tbsp extra virgin olive oil
1/2 tsp salt
1/2 tsp white pepper powder
2 tbsp lemon juice
How to make Mint Mayonnaise Sauce:
Beat the eggs in a bowl and keep aside.
Combine mint, coriander, green chillies and ginger.
Add little bit of water and blend to make a smooth paste.
Add salt and sugar and again blend for few seconds.
Stir the green blended paste with eggs, oil, lemon and pepper.
Pour this mixture into the microwave proof bowl.
Microwave the mixture for about 7-8 minutes at 480 degrees until it boils.
Leave to cool and then fill in air tight container.
Use as per your recipe requirement.
Chef Tips:
You can make this sauce in the pan as well.
This sauce can be refrigerated for 2 months.
Mint mayonnaise is highly used for making various wraps, rolls, tortilla dishes and sandwiches.
For making egg less sauce, do not add eggs. On the contrary add cornstarch for the sauce consistency.