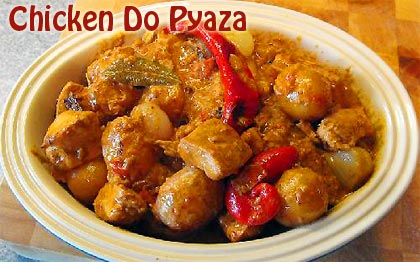 Chicken Do Pyaza is one of the most tastiest chicken recipe. Marinated chicken is cooked in rich Indian spices and then garnished with vegetable rings. One of the most famous Punjabi dish in traditional style just for you.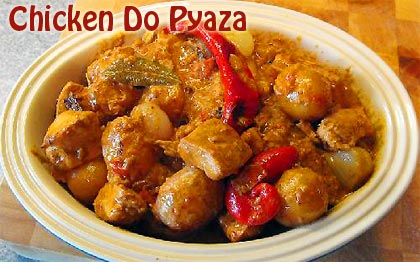 Preparation time: 10 minutes
Cooking time: 20 minutes
Servings: 4
Ingredients:
300 gms chicken (whole)
2 onions thinly chopped
4 tomatoes pureed
1 tbsp fresh curd
6-7 pods garlic minced
1 inch ginger minced
2 tbsp ghee
2 tsp red chilli powder
1/2 tsp turmeric powder
2 tsp coriander powder
1 tsp garam masala powder
1 tsp lemon juice
Few ginger julienned
Few onion rings
Few tomato rings
Few capsicum rings
Fresh coriander chopped
1/2 tsp butter
Salt to taste
Whole garam masala:
1 bay leaf
1 inch cinnamon
2 green cardamoms
1 black cardamom
3-4 cloves
3-4 pepper corns
1/2 tsp cumin seeds
1 mace
1/2 tsp nutmeg
How to make Murgh do Pyaza:
Clean the chicken thoroughly and cut into medium size pieces.
Apply salt, red chilli powder and lemon juice on the pieces of chicken and keep aside.
Marinate the chicken in the mixture of curd, turmeric powder, coriander powder and garam masala powder.
Refrigerate for 30-40 minutes.
Melt the ghee in a kadhai and add whole garam masala.
Saute for few seconds until aroma and flavors of whole garam masala comes out.
Stir with ginger, garlic and add chopped onion.
Saute for few seconds and immediately add tomato puree.
Mix well and cover with the lid.
Leave to cook for 3-4 minutes on low flame.
Now add marinated chicken, mix gently, cover the pan and simmer the flame.
Leave for about 15-18 minutes until chicken is done.
Transfer the cooked chicken in a flat bowl, arrange the vegetable rings around the dish, sprinkle ginger julienne and chopped coriander, dollop with the butter and keep in the oven for few minutes just before the serving.
Chef Tips:
I have used whole chicken, where as this dish can be made with boneless chicken breast as well.
If you do not have oven then do the last step in the pan.
You can use red and yellow bell pepper rings to garnish this dish.
This dish easily goes with tandoori roti, butter naan or steamed rice.