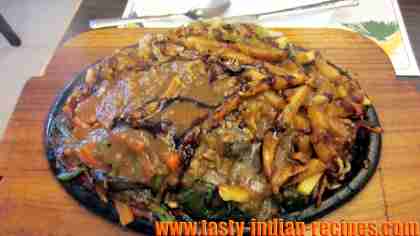 Vegetable Sizzler is the sizzling and yummy assortment of various vegetables along with the spices. The sizzler should be always served on hot sizzling plate with the smoky and aromatic sizzling taste.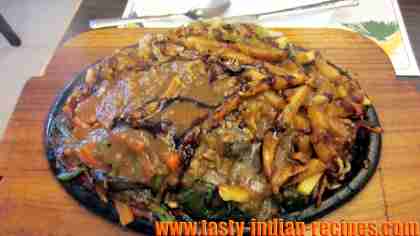 Preparation time: 15 minutes
Cooking time: 30 minutes
Servings: 2
Ingredients:
2 medium onions
1 potato
6-8 french beans
1 cup cauliflower florets
1 green bell pepper (capsicum)
2 tomatoes diced
1/2 carrot
4 green chillies sliced
1/2 tsp red chilli powder
1/2 tsp turmeric powder
1/2 tsp cumin powder
2 tsp vegetable oil
1 tsp butter
Salt to taste
Other ingredients:
1 sizzling plate
3-4 cabbage leaves
How to make Vegetable Sizzler:
Cut the carrot, capsicum, french beans and potatoes in tiny julienne.
Also chop the onion into thin slices.
Make the thin slices of bell pepper as well.
Boil the potatoes, french beans, cauliflower florets and carrots until half done.
Heat the oil in a pan and add the slices of onion along with the green chillies.
Cook until onion translucent.
Add all the boiled vegetables and salt.
Mix well and cook for couple of minutes.
Add the capsicum and tomatoes.
Toss with red chilli powder, turmeric powder and cumin powder.
On the sizzling plate, lay the leaves of cabbage and pour the mixture of vegetables.
Spoonful the butter all over and keep this plate on hot tawa.
It will start sizzling immediately.
Serve on the spot for the true sizzler experience.
Chef Tips:
You can use paneer, corns, mushrooms, etc for making it more delicious and flavorful.
While serving arrange some french fries and steamed rice or pulao near the vegetables on the same cabbage leaf, it will be the complete meal to enjoy.
Add little bit of water if the vegetables are too dry at the time of serving.
If the sizzling plate is not available then you can directly lay the leaves of cabbage on hot tawa and top with the veggies. Serve hot.