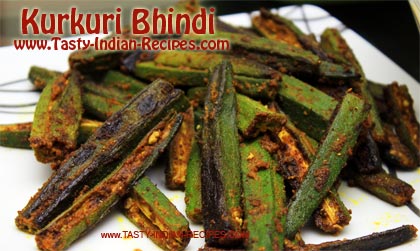 Kurkuri Bhindi is a delicious and crispy bhindi recipe consists the flavors of gram flour and dry mango powder. It is one of the best bhindi dish to serve either as a snack dish or can be accompanied as a side dish with roti, dal and rice. You can make kurkuri bhindi with the combination of sliced potatoes.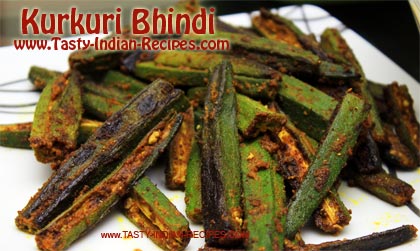 Preparation time: 7 minutes
Cooking time: 15 minutes
Servings: 4
Ingredients:
400 gm bhindi (ladyfingers/okra)
2 tbsp bengal gram flour (besan)
2 green chillies thinly chopped
1/2 tsp cumin seeds
1/2 tsp red chilli powder
1/2 tsp turmeric powder
1 tbsp coriander powder
1/2 tsp garam masala powder
1/2 tsp dry mango powder
Salt to taste
Oil to fry
How to make Kurkuri Bhindi:
Wash the bhindi in normal running water and pat dry with clean kitchen napkin.
Cut into 4 thin pieces into lengthwise.
Combine the salt, red chilli powder, turmeric powder, garam masala powder, coriander powder and dry mango powder.
Mix very well and keep aside.
Heat 1-1/2 tbsp of oil in a non-stick pan.
Arrange the bhindi in the pan and spread the prepared spice mixture over the bhindi.
Also spread gram flour and cumin seeds.
Again spread 1 tbsp of oil all over and cover the pan.
Keep the flame low and allow the bhindi to get cooked and kurkuri for 7-8 minutes.
Uncover and again fry until turns crispy and little browned.
Serve hot with chapatis or naan.