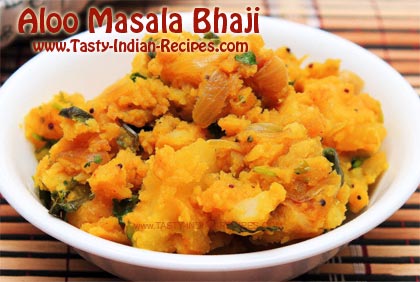 Aloo Masala Bhaji is made with the boiled potatoes, onion, tomatoes and fresh Indian spices. This masala bhaji is extremely delicious to serve with the chapati at the time of breakfast or as a side dish with dal and rice. Learn to make simply and tasty aloo masala bhaji in easy steps. You may would like to add this dish in the menu of school tiffin of your kids. Here is the great use of leftover boiled potatoes.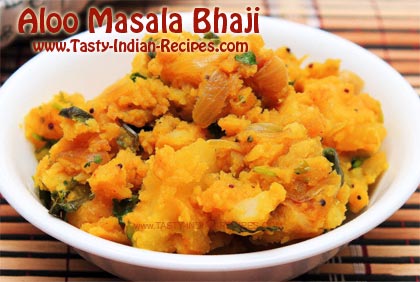 Preparation time: 5 minutes
Cooking time: 10 minutes
Servings: 4
Ingredients:
4 potatoes boiled
1 onion thinly sliced
2 tomatoes chopped
2 green chillies chopped
4 cloves garlic chopped
1/2 inch ginger minced
4-5 curry leaves
1/2 tsp mustard seeds
1/2 tsp cumin seeds
1/2 tsp red chilli powder
1/2 tsp turmeric powder
1-1/2 tsp coriander powder
1/2 tsp garam masala powder
A pinch of chaat masala
1 tsp vegetable oil
Fresh coriander leaves chopped
Salt to taste
How to make Aloo Masala Bhaji:
Mash the boiled potatoes in a bowl.
Mix with the salt, red chilli powder, turmeric powder and coriander powder.
Heat the oil in a pan, add cumin and mustard seeds along with the curry leaves.
Allow them to crackle. Add green chillies, minced ginger and chopped garlic.
Saute for few seconds on low flame.
Now add slices of onion, cook for 2 minutes on low flame.
Add the chopped tomatoes. Mix well and cook until oil begins separating.
Add the mashed potatoes.
Mix well in the mixture of onion and tomatoes.
Add garam masala powder and chaat masala.
Mix well. Garnish with the fresh coriander leaves.
Serve hot with the roti or bread slice.
Chef Tips:
The another method is you can mash the boiled potatoes directly in the pan and then add spices.
Sometimes make a roll or wrap of this bhaji, it will become the delicious school tiffin of your child.