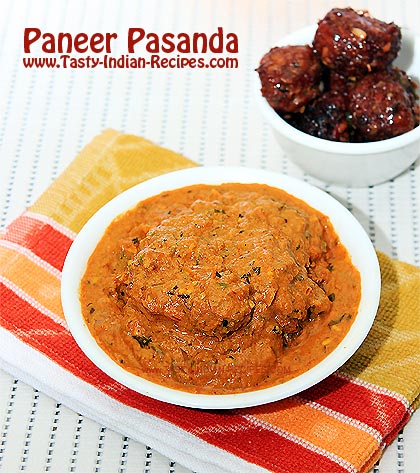 Paneer Pasanada is a rich and aromatic paneer recipe cooked in flavors of sesame seeds, garlic, milk, cream and kasuri methi. A dollop of butter makes wonders in this dish. Learn to make easy and tasty paneer pasanda and make your meal a remembrance one.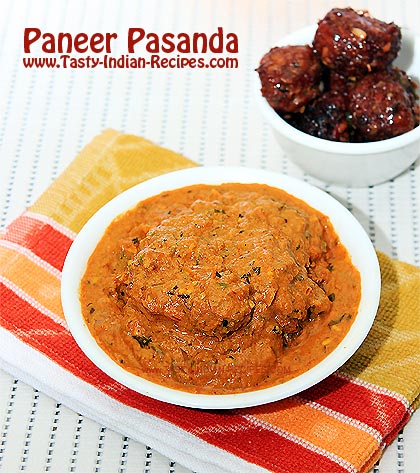 Preparation time: 10 minutes
Cooking time: 20-25 minutes
Servings: 4
Ingredients:
4 cups Indian cottage cheese (paneer)
2 onions thinly chopped
4 tomatoes cut into chunks
1 inch ginger
3-4 green chillies
4-5 cloves garlic
1 tsp sesame seeds
Few curry leaves
1/2 tsp red chilli powder
1/2 tsp turmeric powder
1-1/2 tsp coriander powder
3/4 tsp garam masala powder
3/4 cup condensed milk
1 tbsp unsalted butter
1 cup fresh cream
2 tbsp mint leaves thinly chopped
1 tsp dried kasuri methi
Fresh coriander leaves chopped
1/2 tsp lemon juice
1 tbsp ghee
Oil to shallow fry
How to make Paneer Pasanda:
Cut the paneer in cubes, shallow fry in hot oil and keep aside.
Combine tomatoes, ginger, garlic, green chillies and sesame seeds.
Grind together and make a smooth paste. Keep aside.
Melt the ghee in a kadhai and add thinly chopped onion along with curry leaves.
Fry until onion translucent.
Now add tomato paste, salt, red chilli powder and turmeric powder.
Cook on medium high heat until paste thickens and oil starts touching the bottom of the pan.
Add fried paneer and stir gently for few seconds.
Keep the flame low and stir the gravy with coriander powder, garam masala powder and lemon juice.
Mix well and add milk.
Leave to cook for about 3-4 minutes until it starts boiling.
Finally stir with fresh cream, kasuri methi, coriander leaves and mint leaves.
Mix very gently and dollop with a tsp of butter.
Serve hot with tandoori roti or naan.
Chef Tips:
You may use oil instead of ghee.
Paneer cubes can be used without shallow frying.
Paneer Pasanda is generally cooked in medium thick gravy, hence you may use milk as per your requirement and make the consistency of your choice.
Adjust the spices as per your taste and preference.