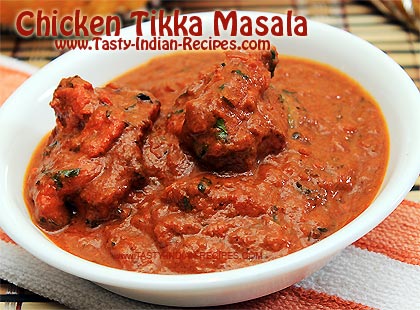 Chicken Tikka Masala is the delicious preparation of grilled chicken tikkas, cooked in the rich Indian gravy and topped with dried kasturi methi, fresh cream, butter and nuts. This is one of the exotic dish from the Punjabi cuisine. You can serve chicken tikka masala with roti, naan, chapati or any Indian flat bread.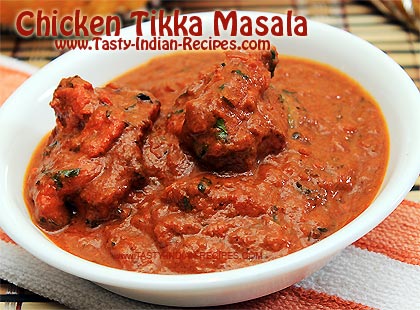 Preparation time: 10 minutes
Cooking time: 25 minutes
Servings: 4
Ingredients:
For the marinade you need:
500 gms chicken (skinless breast)
2 tbsp fresh yogurt
2 tbsp ginger-garlic paste
1 tsp lemon juice
4 green chillies chopped
1 tsp garam masala powder
Salt to taste
For the gravy you need:
2 onions slices
4 tomatoes chopped
2 cloves
3-4 peppercorns
1/2 inch cinnamon
1 bay leaf
3-4 green cardamoms
1/2 tsp cumin seeds
1 tbsp fresh cream
3-4 cashew nuts
1/2 tsp poppy seeds
1/2 tsp white sesame seeds
2 tsp fresh almonds blanched
1 tbsp kashuri methi (dried fenugreek)
1 tsp red chilli powder
2 tsp coriander powder
A pinch of red-orange food color
Fresh cilantro chopped
4 tsp Vegetable oil
1/2 tsp butter
Salt to taste
How to make Chicken Tikka Masala:
Mix all the ingredients of marinade and make a smooth paste.
Wash the breast of chicken and chop into small pieces.
Squeeze out whole water and then mix thoroughly in the marinade.
Cover the mixture and keep aside either for 4 hours or for overnight.
Keep the skewers in warm water for 10 minutes.
Thread the pieces of chicken onto the soaked skewers one by one.
Preheat the oven to 350F degrees on the grill mode.
Arrange or place the skewers on the grill rack and roast until the chicken is browned from all the sides.
Check the tenderness of all the roasted chicken pieces and keep aside.
Combine the cashew nuts, poppy seeds and sesame seeds.
Blend all together to make a smooth powder and set aside.
Heat the oil in a pan and add slices of onion.
Fry until onion translucent.
Take out to cool and then grind in the mixer along with the chopped tomatoes.
Heat the same pan, add whole garam masala along with the cumin seeds.
Saute for few seconds and add the ground puree of onion and tomatoes.
Add salt, red chilli powder and food color.
Mix well and cover the pan.
Leave to cook for 2-3 minutes on low flame.
Add the grilled pieces of chicken and 2 cups of water.
Mix well and stir with the grounded powder of seeds.
Again cover the pan and leave to cook for 8-10 minutes on low flame until chicken tenders.
Uncover and add butter and fresh cream.
Stir only for 2 more minutes.
Add kasuri methi, mix well.
Garnish with fresh cilantro and almonds.
Serve hot with tandoori roti or butter naan.
Chef Tips:
If you want to give your chicken tikka masala a smoky flavor just like restaurants, then here is a tip, take a small steal bowl, keep a piece of coal, heat it on the gas, pour a little bit of butter and then place this heating bowl on the center of the dish. Cover the pan only for 2 minutes, uncover and enjoy the restaurant style chicken tikka masala with smoky flavor.
You can garnish this dish with your favorite dry fruits.
Other sites for reference:
Chicken Tikka Masala at wikipedia.
Chicken Tikka Masala at BBC