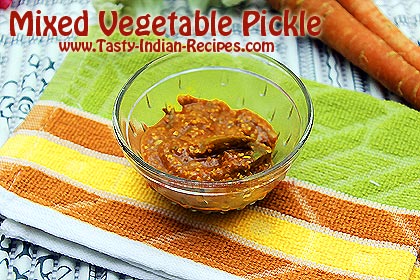 Mixed Vegetable Pickle is the spicy, tangy and crunchy pickle made with the fresh Indian vegetables. It is the best pickle to serve with dal-rice and paratha.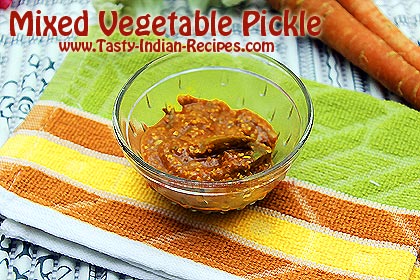 Preparation time: 10 minutes
Cooking time: 10 minutes
Servings: 10
Ingredients:
1 cup carrot thinly chopped
1 cup french beans thinly chopped
1 cup bitter gourd chopped
1/2 beet root (peeled and chopped)
1 inch ginger minced
2-3 cloves garlic minced
2 green chillies thinly chopped
2 tbsp mustard oil
2 tbsp mustard seeds
Few curry leaves chopped
1/2 tsp red chilli powder
1/2 tbsp turmeric powder
1/2 tbsp mace
3-4 black peppercorns crushed
1 tbsp vinegar
1/2 tsp lemon juice
Salt to taste
How to make Mixed Vegetable Pickle:
Combine all the vegetables in a big bowl and add salt, red chilli powder and turmeric powder.
Mix well and keep aside.
Heat the oil in a non-stick pan and add mustard seeds and curry leaves.
Allow the seeds to crackle and add ginger-garlic and green chillies.
Saute for few seconds and now mix the vegetables.
Stir with the mace, peppercorns, vinegar and lemon juice.
Leave on medium high heat at least for 8-10 minutes and then turn off the gas.
Leave the mixture to cool completely and then fill in the air tight jar.
You may serve it immediately with your meal.
Chef Tips:
This pickle can be stored for 2 months, you just need to keep it in the refrigerator.
Adjust the spices as per your taste.
To enjoy the yummy flavor and the true aroma of this pickle, remove it out from the refrigerator 30 minutes before serving.