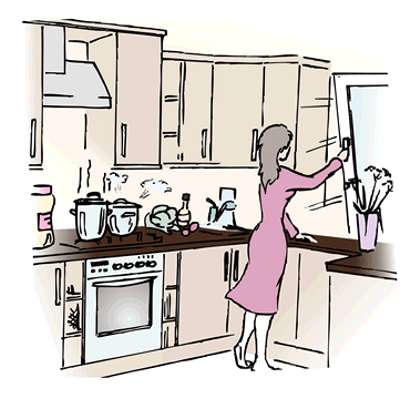 Now a days so many things have changed just like that, the image of a modern kitchen has also changed. In earlier days, a kitchen was usually composed of separate elements, like a dresser, cooker, sink, table.
Kitchen work took significant part of a day and involved preparation, cooking, cleaning and washing. These activities had been done in working zones, independent of each other, and long distances between particular zones had also made food preparation time longer.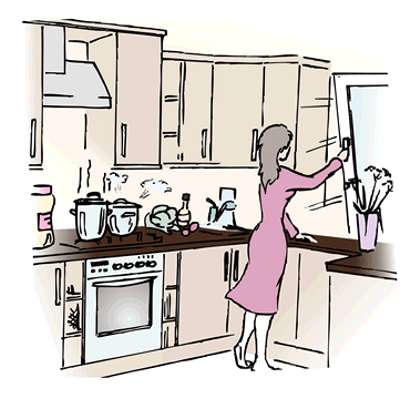 Since the arrival of fitted kitchens culinary work, the new revolution has taken place. Strictly defined functions and corresponding zones resulted in the rationalization of cooking. hence, a change in requirements also has become very necessary. Apart from functionality of the kitchen, emphasis is mainly placed on its perfect image.
The kitchen turned from a workshop into a place where you should feel good and comfortable. As a result, only such materials are used in the kitchen which are meant for use in a residential room. Quality of those things haven been much more improved and standardized a lot, hence it is very important to take care of them properly and carefully.
Guidelines concerning use of the modern kitchen stuff:
Work in the kitchen involves contact with high temperatures, water vapor and moisture. Moreover, quite a few food products leave persistent marks. Furniture materials used now may be resistant to most of those factors, but there are some limits as to what they can endure.
In order to enjoy the kitchen for a long time, some important guidelines must be observed.
Proper ventilation: When you are cooking make sure there is enough ventilation so that water vapor does not condense on elements of the furniture.
Use of extractor fan: Set efficiency of the extractor fan in relation to dimensions of the kitchen. As a rule, the following calculation should be applied:
Kitchen area x height of the kitchen x6 = minimum efficiency of the fan in cubic m/h
Kitchen area x height of the kitchen x12 = maximum efficiency of the fan in cubic m/hExample:
kitchen area = 12 sq m
height of the kitchen = 2.4 m
12 sq m x 2.4 m x 6/h = 173 cubic m/h (minimum efficiency)
12 sq m x 2.4 m x 12/h = 364 cubic m (maximum efficiency)
Avoiding spilling water: Do not open the dishwasher earlier than 20 minutes after the programme has finished so that water vapour can condense inside the appliance.
Do not place hot pans directly on a worktop or another part of furniture, you must put a table mat first.
Check the temperature of the edges of the oven door surface time to time. A tip: so long as you can touch the edge of the door with a finger, the temperature is below 70 degrees Celsius and heating is within the norm. If not, you should ask a servicing company to have the oven door tightness checked.
Do not place a coffee machine or kettle under wall-mounted cupboards. Water vapour and temperature damage your furniture in the long run.
Check regularly the outflow of condensation water in the fridge so that it does not get stopped. Act accordingly to the fridge instruction manual.
Do not cut food directly on the worktop. Use a bread board or a fine chopping board with fine knives.
Porcelain and stoneware dishes have a non-coated surface from the bottom side. Therefore, slight scratches can be made while moving such dishes along the worktop.
Guidelines concerning maintenance:
Taking regular care of a fitted kitchen is extremely important to maintain the kitchen in a good condition for the long time. Therefore, remember to keep yourself in a hygienic state.
Try to use only mild and water-soluble detergents which are clearly intended for kitchen furniture and have it stated on the product information.
Use a soft washing-up cloth or sponge. Do not use anything which could cause scratches.
Remove any dirt as soon as possible. Fresh stains can be usually removed more easily and completely.
Thoroughly dry the surface after cleaning it.
Under no circumstances should you use any solvents, cleaning powders or sponges for washing up pans as they will damage the surface so badly that it will not be possible to bring it back to the original state.
Do not use water vapor under pressure or a hose pipe for cleaning.
Some more Important things are to be take care:
Varnished wooden surfaces should be cleaned with warm water and mild detergent, using a medium-wet cloth. Next, dry the surface thoroughly along the grain. You can try to remove particularly persistent stains with a non-diluted detergent or window-cleaning liquid. However, you should first check on an out-of-sight place whether particular detergent does not have a damaging effect on the surface.
Plastic surfaces (fronts, bodies, worktops):
Plastic surfaces should be cleaned with a mild detergent and a soft cloth. Next, you should wipe them with pure water and dry them thoroughly. You can try to remove especially persistent stains with a non-diluted detergent or window-cleaning fluid.
Any dirt or stains which have not been scorched, can be removed with a wet cloth, without a detergent. Marks left by metal pans, timescale or water stains can be removed with a detergent for stainless steel or with a special detergent for ceramic boards. Badly scorched stains should be removed with a razor blade while they are still warm. In case of burnt sugar or sugar-containing substances, stains have to remove immediately.
High-quality stainless steel (precious steel) and enamel:
For regular maintenance a washing-up liquid will make do. Tough dirt and marks left by water should be removed with diluted detergent for cleaning steel. Patches of rust are best removed with a 10% citric acid or a special detergent for cleaning stainless steel. Fittings, and hinges in particular, should be rubbed with technical Vaseline once a year.
Aluminium surfaces should be cleaned with a damp soft cloth, without any detergents. In order to avoid water marks, it is recommended to dry the surface thoroughly. Persistent stains can be removed with a detergent for cleaning dishwashers or a window-cleaning fluid.
Apart from cleaning the casing, the metal filter has to be regularly washed in a sink or a dishwasher. Filters made of fibre have to be regularly replaced. If the fan is not connected to the chimney it works only as odour absorber, a filter made of activated carbon fibre has to be replaced every 3 to 6 months.
Ovens can be cleaned with commercially available detergents as long as they are still warm and stains are not burnt. Persistent dirt should be removed with a special detergent for cleaning ovens.
Due to hygienic reasons the fridge should be thoroughly cleaned every 6 months. In order to do this, unplug the fridge, wait until it is defrosted, take all the shelves and drawers out. A mild detergent and soft cloth are recommended.
Conclusion:
As you can see, taking good care of your kitchen is not any rocket science. You do not need a stockpile of chemical substances. In most cases it is sufficient to use a commercially available mild detergent and a soft cloth. You can get the further and detailed information in the appliance instruction manuals. A decisive factor is a quick removal of dirt and stains. It will let you enjoy your kitchen for a long time.