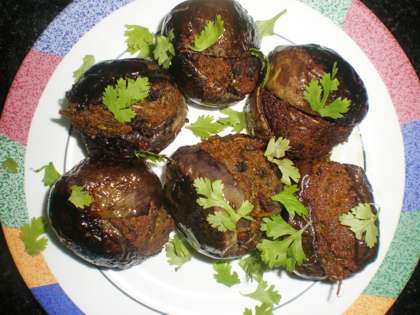 Bharwan Baingan is a favorite brinjal recipe of every one in India. Some likes to make it in onion and spices, some in tomatoes. But today I will tell you the unique way to make this delicious Bharwan Baingan Recipe in the flavorsome of grated coconut.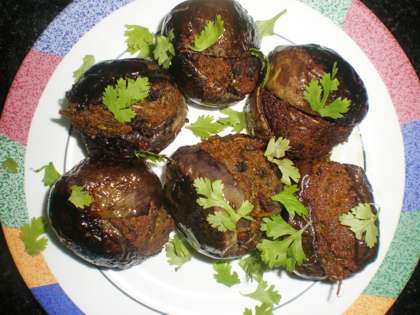 Preparation time: 10-12 minutes
Cooking time: 30-40 minutes
Servings: 6-8
Ingredients:
1 kg baby egg-plant (brinjals / baingan)
4 baby potatoes (peeled)
2 cups coconut (scraped and grated)
1 big onion sliced / chopped
6 Black Pepper corns (Kalimirchi)
6 Cloves (Lavang)
2 tbsp unsalted  Cashew nut chopped
1 tsp Tamarind Paste (Imli Pate)
1 tsp Cayenne Powder
1 tsp Turmeric Powder (Haldi)
2 tblsp Coriander seeds (Dhania)
3/4 tsp Sugar (Cheeni)
4-5 tbsp cooking oil
Fresh coriander leaves chopped
Salt to taste
How to make Bharwan Baingan:
Heat 3 tbsp oil in a deep non-stick pan and add cloves, coriander seeds and peppercorns.
Saute for 2 minutes and add sliced onion.
Fry till the onions are browned.
Now add coconut and stir continue till browned.
Remove from the flame and allow to cool aside.
When the mixture cools down, grind it into a smooth paste.
While grinding, you may add some water into it.
Slit each eggplant lengthwise into four but make sure, you have to keep the stem end intact.
Mix the salt, spices and remaining ingredients into the ground mixture of coconut.
Now stuff the eggplants with the prepared mixture and reserve some mixture aside.
Also roll the potatoes in the reserved mixture.
Heat the remaining oil in a same non-stick pan.
Arrange the potatoes and brinjals.
Add little bit of water, cover the pan and simmer the flame.
Cook on reduced heat until they are fully done.
Keep checking and flipping to avoid the burning of vegetables.
Serve hot with Indian roti or naan.