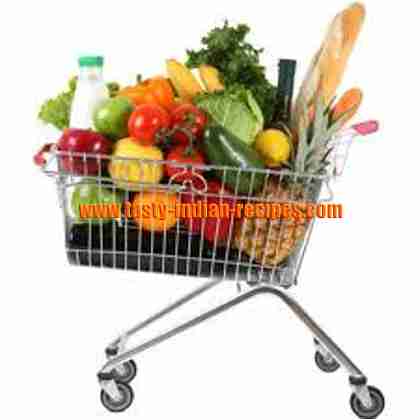 Before you are heading towards your supermarket, you must follow some general tips for buying healthy groceries. First of all Plan your meals. Map out an entire week's worth of meals before you go for grocery shopping. It is not that difficult and time-consuming, in fact it just seems a lot of work on the front end, but planning will actually save you time and money on the back-end.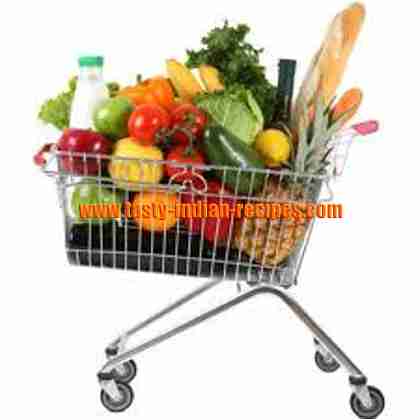 You will have all the ingredients you need for the week, and some ingredients can actually serve double duty. Roast a whole chicken on Monday night, and you'll have chicken salad sandwiches and chicken soup for Tuesday and Wednesday.
Try buying fresh food and groceries that comes straight from the nature. For example Buy fresh apples rather than jarred applesauce, and chicken breasts instead of a frozen chicken pot pie. You will be able to find the freshest foods along the perimeter of the supermarket (produce, meat, dairy aisles).
Whenever you are going for the packaged foods, look for products with a short ingredient list (five or less) and ingredients that you can pronounce. It is very important to become a label reader. You need to read carefully to search for clues that the food you are choosing is low in fat, cholesterol and sodium, and high in vitamins and minerals.
Label reading can be tricky. Sometimes the food items that are labeled "sugar-free" or "fat-free" may still contains a small amount of sugar and fat. A product labeled "light" can still be high in calories. Generally you see the following labels on the food items and here are a few label codes along with their meaning:
Fructose, dextrose, high-fructose corn syrup, brown-rice syrup, cane juice, maltose, sucrose, or syrup — Sugar
Partially hydrogenated oil — Trans fat
Enriched or unbleached flour — Refined flour
Reduced — At least 25% less sugar, fat, calories, sodium, than the regular product
Light – 50% less fat or one-third fewer calories than the regular product
Good source — Contains 10% to 19% of the Daily Value per serving
Excellent source of — Contains 20% or more of the Daily Value per serving
Sugar-free, fat-free or trans-fat free — Contains less than 0.5 grams per serving
Cholesterol-free — Less than 2 mg of cholesterol per serving
Sodium-free — Less than 5 mg of sodium per serving
Low-calorie — 40 or fewer calories per serving
Low-fat — 3 grams of fat or less
Low-sodium — 140 mg or less
Low-cholesterol — 20 mg or less of cholesterol
High-fiber — Contains 5 grams (or more) of fiber per serving
Watch out for "healthy" labels that are put on packages by the manufacturer. Sometimes these labels can be misleading. Here are a few other label marks you should know about:
Heart-Check Mark > Meets the American Heart Association's guidelines for fat and cholesterol.
Whole Grains Council Stamp > Contains at least a half-serving of whole grains.
NuVal System > Developed by a panel of nutrition and medical experts, this system scores food on a scale of 1-100 based on their nutrition. The higher the score, the better the nutrition.