[tps_header]Dry Garlic Chutney is a must have condiment for making Mumbai special vada pav. This is a dry textured chutney recipe, prepared from garlic, toasted pav, and bengal gram flour. Dry Garlic Chutney / Vada Pav Chutney is used in Maharashtra to serve with vada pav and commonly referred as a 'Vada Pav Chutney'.[/tps_header]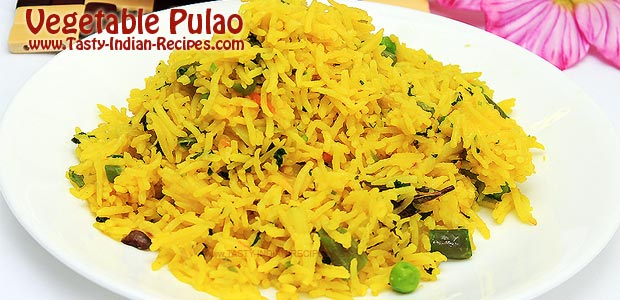 Vegetable Pulao Recipe is a versatile, North Indian Rice preparation. Basmati rice are cooked with choice of vegetables. Simply a real and authentic rice recipe, tastes out of this world, when served with Dal fry and any dry dish.
This rice recipe is one of my favorite pulao, and I generally serve it with Dal tadka and aloo bhindi fry. You can make your own favorite meal of this pulao with other vegetables, dal recipes and dry side dishes.
[tps_footer]This is footer of Vegetable Pulao[/tps_footer]